Why MMI?
As musicians, we take great pride in helping you find exactly the right beginner or professional instruments—whether you are in the market for oboes, bassoons, clarinets, saxophones, or instrument accessories. Whatever your musical queries, we're here to help.
About Us
3rd Annual Clarinet Day!!
3rd Annual Clarinet Day!!  April 13, 2019 10am-5pm at Midwest Musical Imports
Join us for a day of clarinet filled fun featuring guest artist Jonathan Gunn – Clarinet Professor at UT- Austin, Buffet-Crampon and D'Addario Artist – solo competitions, clarinet clinics and more! Click here for more details.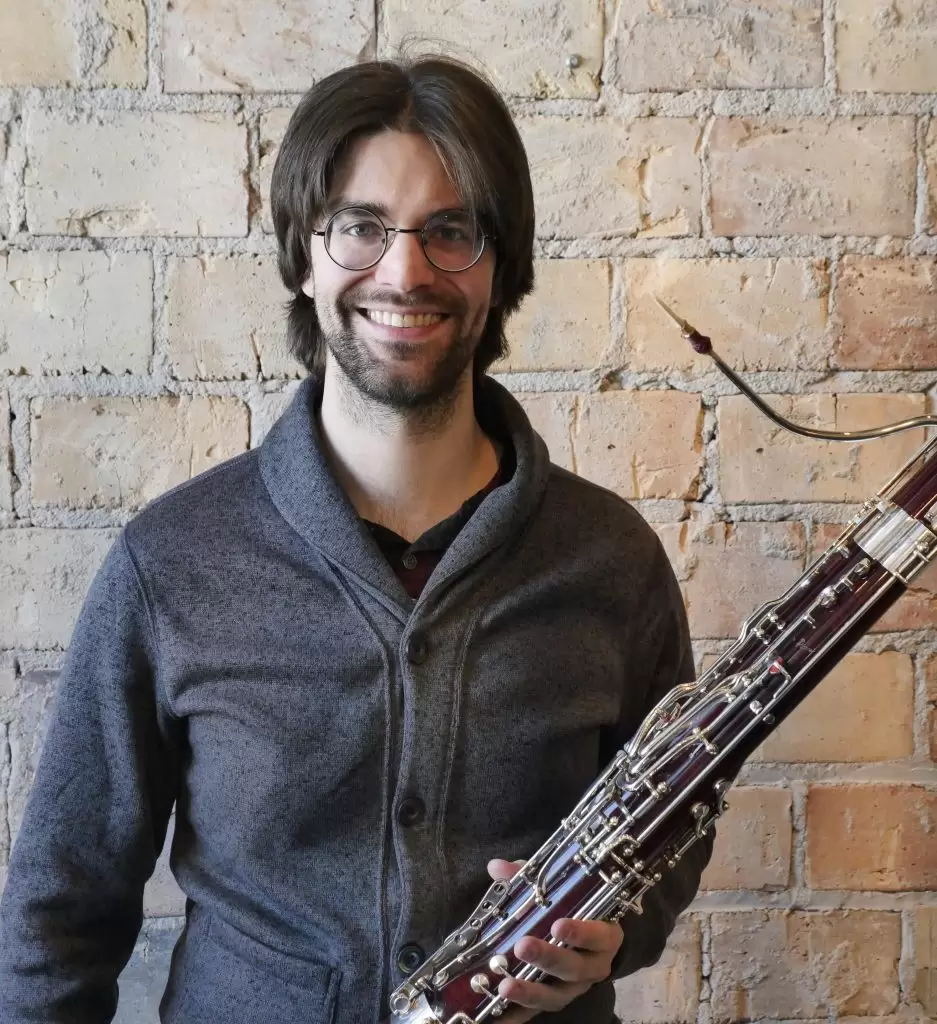 Welcome Nick!
Please help us in welcoming Bassoon Specialist Nick Ober to the team!
Having performed in a variety of settings and locales, Nick's aspiration is to be as versatile of a bassoonist as possible. Although primarily experienced as a symphonic player, he has also performed in Opera pits, Theatre and musical productions, and new music ensembles. While obtaining his Master's in bassoon at Northwestern, he helped launch the project Apres L'Histoire, a new music ensemble that performs and commissions works for the same ensemble used in Stravinsky's L'Histoire du Soldat. He also co-founded the Seraphina Ensemble, a new music project focusing on living composers from underrepresented demographics. Most recently, Nick was in the cast for the Chicago Shakespeare Theater's production of Nell Gwynn. He has also performed with the Northbrook Symphony in Northbrook, IL . With 5 years of experience as a barista, he is also excellent at recommending coffee to people. He has a keen interest in bringing the bassoon to genres it is not normally found in, such as jazz. Someday, Nick hopes to maintain a bassoon studio at the college level.
Welcome Fabio!
Please help us in welcoming Bassoon Specialist Fabio Benites to the team!
Fábio holds bachelors in bassoon, saxophone, and music education from the University of Brasília, Masters in Arts in bassoon performance from the University of Iowa, and Doctor in Music from Florida State University. Fábio was principal bassoon at Sergipe Symphony and is currently the 3rd bassoon and contrabassoon at Tallahassee Symphony Orchestra, 2nd bassoon at Valdosta Symphony Orchestra, and 1st bassoon at Panama City Pops Orchestra. Fábio performed as a substitute bassoon as well in other orchestras in Brazil and the United States.
News
3rd Annual Clarinet Day
We are excited to announce our 3rd Annual Clarinet Day at MMI!  April 13, 2019 from 10am-5pm. Jonathan Gunn -clarinet professor from University of Texas - Austin, will be our featured guest artist. Jonathan will performing…
Happy Holidays and year-end hours
Dec. 24--OPEN 9-1pm, no repair Dec. 25--CLOSED Dec. 26--OPEN 9-5pm Dec. 27--OPEN 9-7pm Dec. 28-OPEN 9-5pm Dec. 29--OPEN 9-3pm Dec. 30th--CLOSED Dec. 31st--OPEN 9-1pm, no repair Jan. 1--CLOSED Jan. 2-3--CLOSED for our annual inventory Jan. 4th--Normal Business hours resume. Thank you for your patience and understanding during this very busy end of year!  As a reminder, our online store is always open for…
All News
Frances Colón, Former Principal Oboe, Puerto Rico Symphony Orchestra
"I have been a customer for over a decade and have always received the most amazing customer service there is. Products are shipped immediately and arrive fast extremely well packed and taken care of. Thank YOU, Midwest Musical Imports for your service to the music community! Bravo!"
Frances Colón - Former Principal Oboe, Puerto Rico Symphony Orchestra
Ben Kamins, Rice University
Thanks for the incredible support you and your colleagues serve my students. It really makes an enormous difference for their success in the profession.
Ben Kamins - Rice University
William Short, Principal Bassoon, Metropolitan Opera
MMI's combination of high-quality merchandise, reasonable prices, and knowledgeable staff have made them my go-to double reed supplier for years. Whether I'm stocking up on cane for the next opera season, helping my students look for bocals, or just splurging on the latest gadget, they're the best!
William Short - Principal Bassoon, Metropolitan Opera
Norbert Nielubowski, Minnesota Orchestra
For buying and selling new or used instruments and double reed supplies, MMI is a great place for all your bassoon needs. With their excellent staff and their extensive inventory of new and used bassoons, bocals, and supplies, MMI is a full service shop for all your bassoon needs whether you are a professional, student or amateur. I've always had great service from MMI- their great bassoon specialists, Jessica and Katie, are always ready to answer my questions about bassoons, bocals, or the latest reed-making equipment. MMI is my first choice.
Norbert Nielubowski - Contrabassoonist, Minnesota Orchestra
Ian Tyson, Freelance Clarinetist, New York, NY
I recently purchased a Buffet R13 from Midwest Musical Imports. The entire process was incredible. Clarinet specialist, Tori Okwabi, was so professional and thorough throughout every step of the process. She truly made me feel like a valued customer. Tori went above and beyond in customer service. Her knowlegde of the clarinet is top notch. I cannot say enough good things about Tori. She is definitley a key factor in me wanting to become a returning customer, as well as encouraging others to use MMI for all of their woodwind needs. I was very impressed with the new store space, large inventory, and professional staff. One other staff member I must mention is Jessica Nelson. She was also incredible to work with--such attention to detail and passion for what she does. Thank you, Midwest Musical Imports for the fantastic experience! I look forward to the next one.
Ian Tyson - Freelance Clarinetist, New York, NY
Nathan Hughes, Metropolitan Opera | Oboe Faculty, The Juilliard School
Thank you MMI for all the knowledge, care and wonderful service you have provided for so many of us over the years! You are an invaluable resource for musicians everywhere!
Nathan Hughes - Metropolitan Opera | Oboe Faculty, The Juilliard School