September 11th, 2017 by Jessica
Mini-recital with works by Bach, Mignone & Winstead
Masterclass
Reception following the class
Large selection of bassoons and bocals for trial
Free small repairs
Darrel Hale is the Assistant Professor of Bassoon at Louisiana State University and the Principal Bassoon of Baton Rouge Symphony Orchestra. An avid chamber musician, he also performs regularly as a member of the Timm Wind Quintet and the Conundrum Reed Trio. Before joining the faculty at LSU, Mr. Hale serviced as the Acting Principal of the Knoxville Symphony Orchestra and the Principal Bassoon of the Kentucky and Springfield Orchestras. His teachers include Dr. Yoshiyuki Ishikawa, Per Hannevold, and William Winstead.
We look forward to seeing you at this great, FREE event!!
September 8th, 2017 by Jessica
You're invited!  
We are excited to host Richie Hawley on Saturday, September 30th from 2-4pm!  The class will be held at Midwest Musical Imports in our recital hall.  Please join us for this free and incredible clarinet event!
Mini-recital and masterclass
Reception following the class
Try our custom set-up clarinets hand-selected by Richie
Mouthpieces, barrels, reeds, and more available for purchase
Free small repairs
Richie is the professor of clarinet at the Shepherd School of Music at Rice University in Houston and serves as the teaching and performing clarinet artist at the Music Academy of the West in Santa Barbara, California.  A Buffet-Crampon artist, Mr. Hawley performs on the Tosca model of clarinet. He is also a D'Addario Woodwinds Performing Artist and Clinician, and plays exclusively on the Reserve Classic reeds and mouthpieces which he helped to develop.
We look forward to seeing you there!!
June 30th, 2017 by Jessica
Ginny's going away doughnuts. (They spell out good luck, Ginny!) =)
I am sad to inform you that repair technician, Ginny Dodge's last day is today.  We are very sad to see her go and will miss her around the shop!!  Not only is she a fabulous repair technician, but we'll miss her jokes, laughter, whistling and bubbly personality.  Ginny, we wish you nothing but success in your future endeavors and since you are now part of the MMI family, we expect you to come back and visit! =) Best of luck to you!!  –Jessica and the MMI staff
Ginny and Jessica with Ginny's going away doughnuts.
To our MMI family-
I'd like to personally let you know that as of July 1st, I will no longer be repairing at Midwest Musical Imports.  I will be moving to the Detroit, MI area to be with my fiancé and begin our next step of life together.  I would like to impress that my time working for Midwest has been some of the best years of my life to date!  That is due largely in part to the amazing community of woodwind players that we serve through the store.  From double reed days to the annual IDRS conference to our in-store interactions, it has been an honor and a privilege to offer service to your instruments.  If you'd like to keep in touch or let me know of your performances in Michigan, I would love to continue supporting your art in any way I can!  My email is virginiardodge@gmail.com or you can reach me via phone at 585.245.4305.  In the mean time, I'll be saving my pennies to see you all in Grenada at next year's IDRS conference!  Be well and keep up the amazing artistry.  We're lucky to have all of you in our lives here at MMI!
Also, pass the tissues.
Ginny
We will miss you, Ginny!!! Best of luck!!!
June 29th, 2017 by Jessica
We currently have 2  brand new Fox 680 and 1 Fox 685 bassoons in stock and on sale!!  These are lovely instruments and are waiting to find their new homes!  All of them are in the mountain maple and come with the following options: High F key, Rotary whisper lock, Ab/Bb trill key, Double low C plate, Left hand D-Eb trill key, A-Whisper key bridge. This is Fox's newest design.  A thick walled bass and bell give you power and projection in the lower register, while the thin walled wing joint provides an easy, singing response in the upper register.
Current Fox artists playing the 680 include:  Kristen Wolfe Jensen, Ted Soluri, Albie Micklich, and the Breaking Winds.  Fox artist Matthias Racz plays on a Fox 685.
These instruments pair very well with a brand new Heckel bocal!  Purchase any of our new bassoons and a new Heckel bocal at the same time and we will discount the Heckel bocal to $750. (A $325 savings!)  Jessica and Katie have expertly paired Heckel bocals with 680s and 685s, and are happy to help you find the perfect match for your style of playing.
These fully featured bassoons are on sale for a discounted cash/check price of $26,500.  Call today to take one on trial!!!
June 28th, 2017 by Jessica

We are excited to be a part of ClarinetFest 2017!! The annual clarinet convention will take place in Orlando, FL from July 26-29. Tori recently returned from Buffet, where she and Richie Hawley hand-selected an amazing assortment of clarinets that will be available for trial. Also available will be Epplesheim's Contrabass clarinet for testing. One of our repair technicians will be doing free repairs throughout the show. A large variety of accessories will also be available for sale. And if all of this isn't enough, stop by to see Tori, Brandon, and Jessica's smiling faces!! =)
June 28th, 2017 by Jessica
We absolutely love our new location and think you will, too!!  The store has doubled in size!!  We've added practice/lesson rooms, a recital hall, increased the size of our repair shop and sales floor.  Please stop by for a visit!  We'd love to show you around!
Our new showroom and sales floor!
Our repair staff working hard in the new repair shop!
Our new recital hall with seating capacity of 60!
One of our new teaching/practice studios!
A street view of our new space.
We look forward to welcoming you in the store soon!
June 28th, 2017 by Jessica
We will be closed July 3 & 4.  (Our online store will be open!)
Happy Independence Day!
June 7th, 2017 by Jessica
Join MMI's Ginny Dodge for a two-hour event on mindfulness, healing and intentional goal setting on Saturday, June 17th.  Stop by in person or virtually with our Facebook Live broadcast.  We'll be offering four interactive and informative sessions on popular topics in personal development and holistic wellness, specific to musicians!  Learn about and try essential oils, practice using powerful vocabulary, learn why goal setting hasn't worked in the past and what to do about it, and build your knowledge of breathing exercises and meditation.
10:00-10:20 Session I: Meditation and Breathing Exercises
10:30-10:50 Session II: Affirmations, Gratitude and Mindfulness
11:00-11:20 Session III: Essential Oils for Musicians
11:30-11:50 Session IV: Goal Setting in the World of Music
We're excited to see you!
May 15th, 2017 by Jessica
Our repair department wants to remind you all that now is a great time to get your instrument repaired!
We are currently at a 1 week turn around!  This is the fastest we've ever been!  Send your instrument in for repair now to beat the summer rush!!!
As a reminder, here are your servicing options:
Daily Walk-in Repairs: Same Day Turnaround Convenience
Walk-In Repairs will be limited to one hour maximum bench time.
Appointment System: 1 Week Turnaround; Choose Your Repair Date
This flexible option allows you to be without your instrument for the shortest time.
As the summer nears, we may not have as many appointment slots available.  Call Tori, our Scheduling Coordinator, for more details.
Regular Repair Queue: 1 Week Turnaround as of 4/20/17
Call for details about our current wait time, especially as the summer nears.
We request Regular Repair Queue horns to stay at MMI before being serviced.
Rush Repairs: Limited Availability at an emergency rate.
Please note that emergency work including body restoration, crack pinning and key maintenance may be a multiple day process.
Call us today to see how we can help keep your instrument in top playing condition!
We look forward to meeting you!
Best wishes,
Eric, Matt, Ginny, Caleb and Allen
April 18th, 2017 by Jessica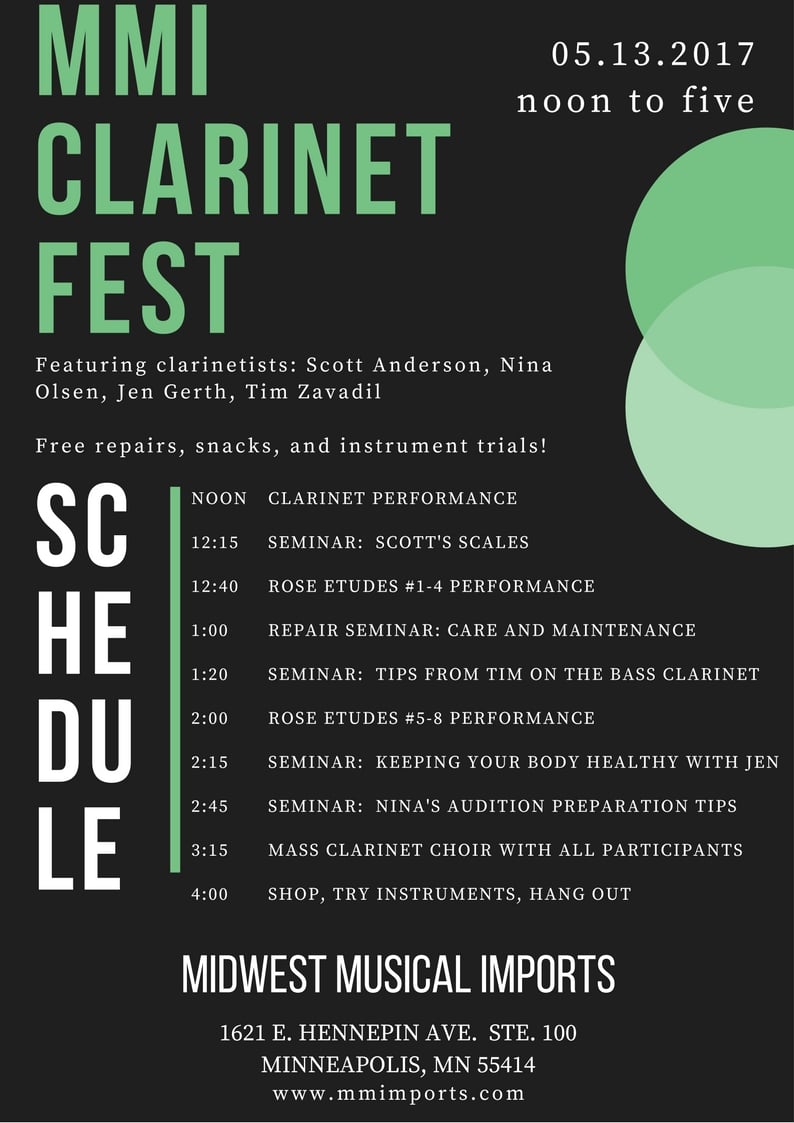 Categories

Recent Posts

Archives
I definitely plan to send my oboe to the repair techs at MMI in the future. I don't think my oboe has played this well since I've purchased it!