June 28th, 2017 by Jessica
We absolutely love our new location and think you will, too!!  The store has doubled in size!!  We've added practice/lesson rooms, a recital hall, increased the size of our repair shop and sales floor.  Please stop by for a visit!  We'd love to show you around!
Our new showroom and sales floor!
Our repair staff working hard in the new repair shop!
Our new recital hall with seating capacity of 60!
One of our new teaching/practice studios!
A street view of our new space.
We look forward to welcoming you in the store soon!
June 28th, 2017 by Jessica
We will be closed July 3 & 4.  (Our online store will be open!)
Happy Independence Day!
June 7th, 2017 by Jessica
Join MMI's Ginny Dodge for a two-hour event on mindfulness, healing and intentional goal setting on Saturday, June 17th.  Stop by in person or virtually with our Facebook Live broadcast.  We'll be offering four interactive and informative sessions on popular topics in personal development and holistic wellness, specific to musicians!  Learn about and try essential oils, practice using powerful vocabulary, learn why goal setting hasn't worked in the past and what to do about it, and build your knowledge of breathing exercises and meditation.
10:00-10:20 Session I: Meditation and Breathing Exercises
10:30-10:50 Session II: Affirmations, Gratitude and Mindfulness
11:00-11:20 Session III: Essential Oils for Musicians
11:30-11:50 Session IV: Goal Setting in the World of Music
We're excited to see you!
May 15th, 2017 by Jessica
Our repair department wants to remind you all that now is a great time to get your instrument repaired!
We are currently at a 1 week turn around!  This is the fastest we've ever been!  Send your instrument in for repair now to beat the summer rush!!!
As a reminder, here are your servicing options:
Daily Walk-in Repairs: Same Day Turnaround Convenience
Walk-In Repairs will be limited to one hour maximum bench time.
Appointment System: 1 Week Turnaround; Choose Your Repair Date
This flexible option allows you to be without your instrument for the shortest time.
As the summer nears, we may not have as many appointment slots available.  Call Tori, our Scheduling Coordinator, for more details.
Regular Repair Queue: 1 Week Turnaround as of 4/20/17
Call for details about our current wait time, especially as the summer nears.
We request Regular Repair Queue horns to stay at MMI before being serviced.
Rush Repairs: Limited Availability at an emergency rate.
Please note that emergency work including body restoration, crack pinning and key maintenance may be a multiple day process.
Call us today to see how we can help keep your instrument in top playing condition!
We look forward to meeting you!
Best wishes,
Eric, Matt, Ginny, Caleb and Allen
April 18th, 2017 by Jessica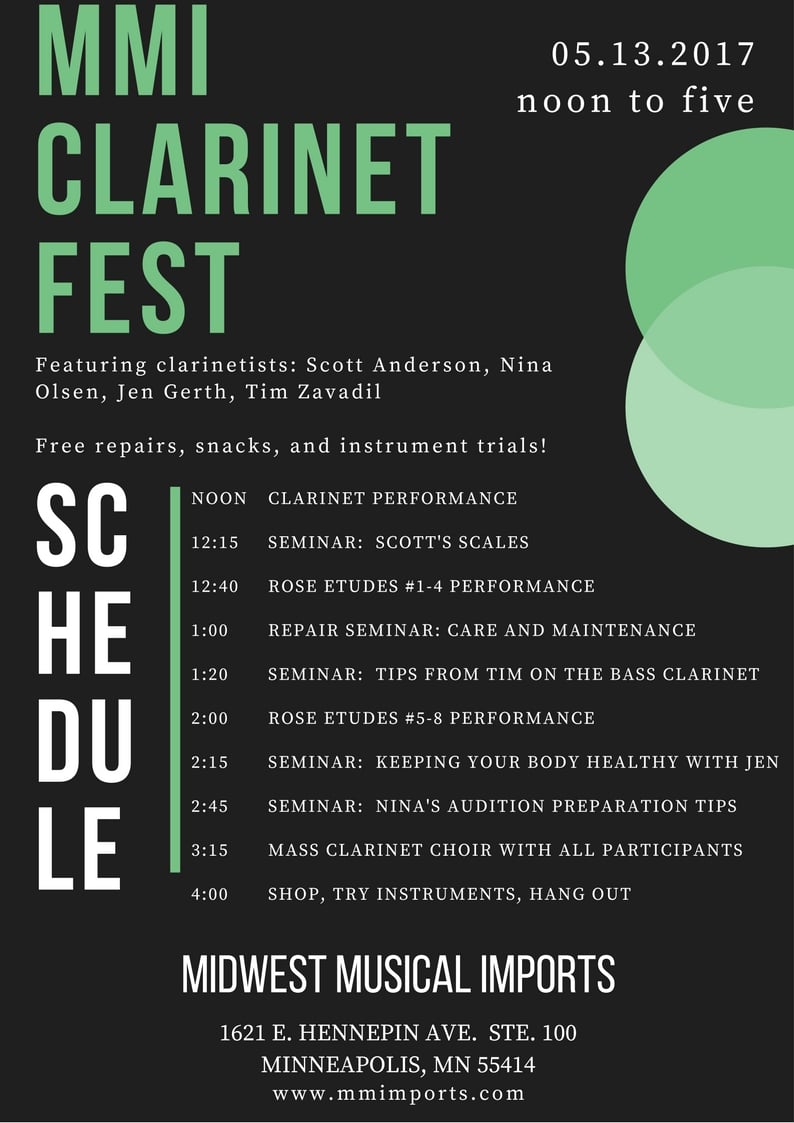 April 17th, 2017 by Jessica
Now through June 30, 2017!! Receive a $200 rebate on the purchase of any Buffet-Crampon R13 Clarinet or Buffet-Crampon Tradition Clarinet!
http://store.mmimports.com/buffet-crampon-r13bbnickel
http://store.mmimports.com/buffet-crampon-tradition-bb-nickel-plated-keys/
Call Tori or Brandon today to arrange a trial on one of these lovely new clarinets!
March 29th, 2017 by Jessica
I would like to extend a very heartfelt thank you to everyone that came to our grand opening celebration! For those of you that came, emailed, sent flowers or called with your best wishes, we are extremely grateful. Below are some photos from the event.
A big thank you again to our generous sponsors/vendors: Buffet-Crampon, Fox Products, Loree, Puchner, Heckel, D'Addario, Peak, and Clark Fobes.
We look forward to many more events and please keep an eye on our calendar for updates!
Best wishes,
Jessica Nelson, General Manager
An overview of the reception after the recital on Friday night.
Owner and founder, Mike Aamoth gets a thumbs up after the Friday night reception from long-time customer, David Braslau.
Katie with customers at the Friday night reception.
Friday night reception.
Friday night reception.
Friday night reception.
Eric thanks a customer after work in the repair shop.
Our first customer during the celebration on Friday!! Jessica with her friend and oboist, Siri Garnaas
Friday was repair technician, Matt Reich's birthday! We surprised him with a cake.
Julie Gramolini William, Chris Marshall, and Greg Williams, of the MN Orchestra during their trio performance
Read the rest of this entry »
January 10th, 2017 by Jessica
We are extremely happy to announce that we have moved to our new location and most importantly, WE ARE OPEN FOR BUSINESS!!!!!!  Please visit us at:  1621 E. Hennepin Ave., Ste. 100, Minneapolis, MN 55414. (Only two blocks away from our old location!) Our email and phone contacts have not changed.
If arriving by car, take East Hennepin to 16th Ave SE, and park either on 16th Ave SE (it's a dead end), or the parking lot across from the west entrance on 16th.  If needed, there is a ramp located at the back of the building at the main entrance.  Please call us with questions. We are located in the southwest corner of the Fisk building, at the corner of 16th Ave SE and E. Hennepin Ave.
The new space is much larger than our old and includes a recital hall!  Our repair dept. and the retail shopping area have been expanded.  Below are some photos.  We can't wait to welcome you in the store!
Our new shopping area
The brand new recital hall!  Watch for upcoming events!!
The repair staff (minus Allen) in the new repair shop!  L-R , Eric, Caleb, Ginny, Matt and Coda in the front!
Sales staff in the new sales area! L-R Jeff, Steven, Jessica, Katie, Brandon, Tori.
We thank you for your patience over the new year as we were closed and completed our move.  Please stop by and say hello when you are in the area!  We'd love to give you a personal tour! =)
Best wishes from all of us at MMI!
Jessica, Jeff, Steven, Katie, Brandon, Tori, Eric, Ginny, Matt, Caleb and Allen
April 17th, 2015 by Jessica
We are pleased to offer instrument financing through First Mutual Bank. The application can be done entirely online, and is at the bottom of the page.
The interest rate for this program is 12.99%, and the terms are anywhere from 6 months to 60 months (your choice), with no prepayment penalties. The below link will give you an instant credit decision. This program is limited to serialized instruments/bocals with a retail value of $1,000 or more ($1,000.00 minimum must be financed). With this program, we are happy to extend a cash/check sales discount on eligible instruments.
Please let us know if you have any other questions. We look forward to working with you on the purchase of your instrument!
January 26th, 2015 by Jessica
As many players know, our instruments travel just as much as we do.  Our instruments spend quite a bit of time being removed from and placed into their cases.  If you're investing in your instrument, be sure to invest in an instrument case that cares for your woodwind too.
Many instruments that come through our repair shop suffer from ill fitting cases.  Some cases can actually be detrimental to your instrument's safety.  Reoccurring problems on your horn (rods becoming loose, keys going out of alignment) might actually be caused by the way an instrument fits in the case. We have seen bent keys from cases fitting both too tight or with excessive movement.  If your current case is not fit to your instrument, be sure to attend to this issue.  Scratched plating and blemishes in the body of an instrument can be caused by a loose bocal, screwdriver or other items left in the case.  Consider a case with an outer zipper pouch to collect all of your accessories!  We're here to help and our sales team has many options to offer when considering updating your case.   Visit our online store to see our options for cases:  oboe cases, bassoon cases, clarinet cases, saxophone cases.  We can also special order cases–call us for more details.
Categories

Recent Posts

Archives
I've only heard great reviews about this trial procedure with [Midwest Musical Imports, it was very convenient.